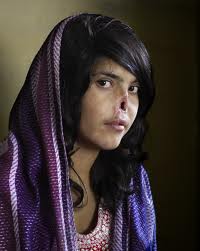 Before you complain whine and moan about the Taliban and their rights, check out Bibi. After fleeing her husband's brutality and returning to her father's home, the Talian came and demanded her return.
Without recourse the father gave his daughter back. Her brother-in-law held her down while her husband cut off her ears and nose. Nice people! Left her for dead until our troops found her and rescued her.
Get al life! Get off the backs of our troops. They defend us and are under strain. Oh and by the way, she was alive not already dead when they mutilated her.
Before you complain about our troops check out the Christians killed in Egypt by the same types of men you are so concerned about.
Life is not so easy for people in those countries and our troops are there so they would not come here, to your homes.
Protect our troops!
Punish the ones who do stupid unseemly things but do not condemn the whole for the arrogance of a few.