Grilled Shrimp with Sesame Oil Vinaigrette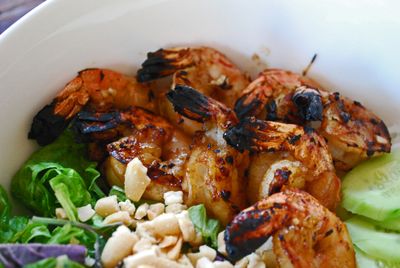 Ingredients:
16 large shrimp, uncooked
3 Tbsp extra-virgin olive oil
1/2 cup white Sesame oil
1/4 cup fresh lemon juice
2 Tbsp chopped Vidalia onion
2 Tbsp chopped fresh parsley leaves
Salt and ground black pepper to taste.
Directions:
1- Peel and devein shrimp. Leave tail on. Butterfly.
2- Place prepared shrimp in a shallow dish and sprinkle with olive oil; refrigerate, covered, until ready to cook.
3- In a medium bowl, combine sesame oil, lemon juice, onion, and parsley. Season to taste with salt and pepper; set aside.
4- Pour all ingredients over shrimp.
5- Grill and cook approximately 2 minutes on one side; turn and cook another 1 minute or until shrimp are opaque in center (cut to test). Remove from grill.
6- Suggestion: you can make extra vinaigrette to add to cooked shrimp.
Drizzle with a little of the vinaigrette.
Serve over a green salad or cooked rice.
Serves 4.