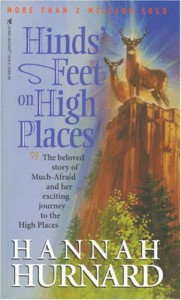 Is suffering a mental response to the conditions presented? Do we need to suffer? Life is suffering! But, do we need to suffer, or can we control our response?
Forgiveness, thankfulness, wonder, appreciation, just some of the life lessons taught to me in my choice of books today.
To scale the mountains of life, to climb to the top and look down with appreciation on the amazing life we lead, I chose Hinds' Feet On High Places as lessons learned in life. An amazing journey of growth that opened my eyes to the possibilities of joy with God.
Hinds' Feet on High Places
An allegory by Hannah Hurnard seemed tailored for me at many stops in my life, but written for everyone. The twisted mangled body of the heroine represents the human spirit. Then, the Shepherd who shows her The Way.
The story takes our heroine Much Afraid from situation to disaster as in life, to bring her on the other side victorious and spiritually strong. A book to love. Can never keep it on my shelf. I should know, having bought it more than thirty times and given it away just as many. A tale showing triumph of the spirit when facing hurt, pain and anguish.
The book takes its title from Habakkuk 3:19, "The Lord God is my strength, and he will make my feet like hinds' feet, and he will make me to walk upon mine high places."
Much Afraid was accompanied by Sorrow and Pain on her successful journey to end up with Joy and Glory.
May you find your joy and your glory in your every day walk. Keep your spirit flexible to bend with the winds of hardship and your heart open for the people sent your way to ease day to day suffering.
Thanks again for stopping by on this weekend's Blog-A-Licious tour. With my take on "The Book That Inspires Me Most", please head on over to my fellow writer dk LeVick's blog for his view of this challenging question.