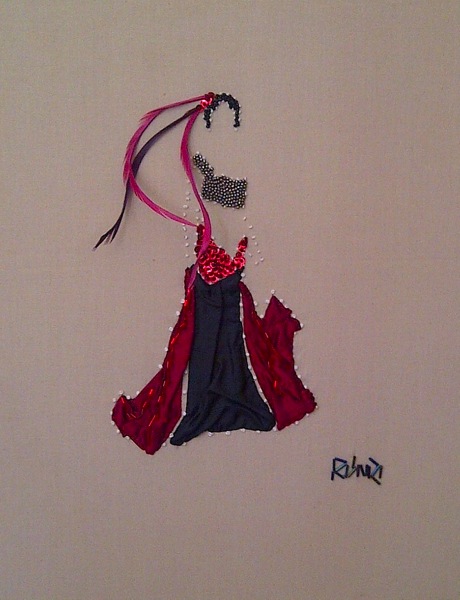 Salome, Op. 54, is an opera in one act by Richard Strauss to a German libretto by the composer, based on Hedwig Lachmann's German translation of the French play Salomé by Oscar Wilde.
The opera is famous (at the time of its premiere, infamous) for its "Dance of the Seven Veils". It is now better known for the more shocking final scene (often a concert-piece for dramatic sopranos), where Salome declares her love to – and kisses – the severed head of John the Baptist.
In this piece of artwork, my depiction of her intends to convey a lustful uncaring attitude which I hope I managed to illustrate here.
Salome (whether by ignorance or love for her mother) asked for the head of John the Baptist of her step-father the king when he offered her anything she wanted after she danced so beautifully for him. In her stance, I tried to convey that nonchalance, that insouciant indifference to her deed.
I used red and black silk for her skirt, beaded the bodice and headpiece then added the feathers.
This piece is 16″ x 20″ and framed in a gold leaf frame.