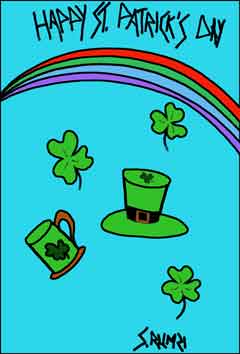 St Patrick's Day
St. Patrick is the Patron Saint for the Irish Catholics. Blue was the colour associated with Saint Patrick. Now green has taken over as the years went by and its association with Saint Patrick's day prevails. As early as the 17th century green ribbons and shamrocks were worn in celebration of St Patrick's Day .
The Patron Saint was said to have used the shamrock, the three-leaf plant, to explain the Trinity to pagan Irish. The wearing and display of shamrocks and shamrock-inspired designs have become an accepted and looked for feature of the day.
The Chicago River is dyed green every year to celebrate this holiday. Many people around these United States celebrate it to one degree or another and most everyone loves to go to the Irish pubs and drink green beer.
Carnations have become associated with this holiday and vendors have colored the water they use for those flowers to get the green color they desire.
Catholic leaders in Ireland have been concerned about the secular flavor of St Patrick's Day. But, they have not been able to stave the desire for a party.
Have a good St.Patty's Day and drive safely no matter how many days you celebrate. Some people have extended the celebration to five consecutive days of partying.
Happy Irish!