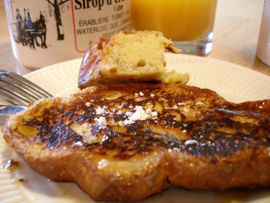 One of the foods I made for Eleanor was a spiced French Toast. Used to having her scrambled egg and toast every morning, I made her something new. She loved my cooking and gave me leeway to serve her new and delicious foods.
In the next few weeks, I will share some of the foods I made for her. Yes, she loved my cooking.
Ingredients:
1 egg
1/4 cup milk
Pinch Cardamon
Dash Allspice
2 pinches Cinnamon
1/4 tsp Vanilla
2 Slices of toast or Hawaiian Bread or potato Bread
Butter for frying
Maple syrup
Directions:
Beat egg and milk.
Add spices and vanilla. Set aside for a moment.
Heat butter in skillet.
Dunk each slice of bread covering both sides with spiced mixture.
Place in medium hot butter.
Brown on both sides.
After placing in serving plate, cover with Maple syrup.
When she tasted my concoction, she asked for it many times after that. Blind, all her other senses were enhanced and she appreciated the sensual flavors.
Salma Keir