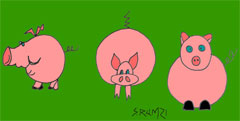 The question of whether Pig Day is a time to honor pigs by "giving them a break" or to appreciate their offerings (spare ribs, bacon and ham) is an open one.
I would imagine that this holiday was contrived for the winter doldrums and cabin fever when in the middle of the snow covered stretches of lands in our vast country, there was little to celebrate and enjoy.
Remembering of course Babe the amazing pig who talked and Charlotte's Web where the pig was charming and lovable makes me cringe at the thought of the next slab of ribs with barbecue sauce.
Celebrating the pig and honoring it as an intelligent and social animal is the height of irony since within a few days that same honored pig will be served or offered on someone's table for breakfast, lunch and dinner.
So, whether you like your bacon and eggs, pork deli and cheese sandwich or a glazed ham with cherries on top, the best protection from any of those dilemmas is to stay away from those celebrations in general. Or become a vegetarian. Since I cannot imagine all this hoopla to honor a smart and friendly creature could be good if I plan to wolf it down at the nearest possible time for a delectable meal.
If you are Jewish or Muslim disregard this babble since it should not apply to you.
Food for thought. Here piggy piggy piggy. Sooooweeee!