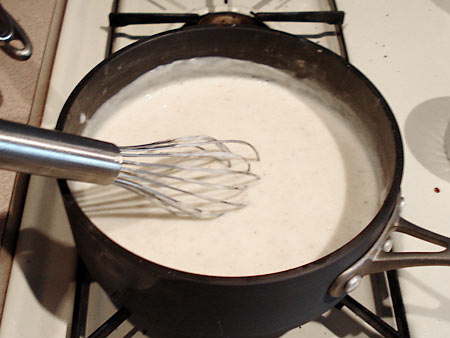 This is the first of two parts of Chicken Negressco from Salma Keir from Caring For Eleanor.
Beshamel
4 tablespoons butter or olive oil
2 oz flour
2¼ cups milk
salt
1 egg
– In a sauce pan, heat oil.
– Add flour and whisk vigorously to lightly brown the flour.
– Add salt as you whisk.
– Add milk a little at a time whisking to avoid lumps.
– Remove from heat when thickens.
– Add raw egg and whisk into mixture.
Now it is ready to be added to whatever dish you want to add it to.
This sauce is a white sauce to use with pastas and making Croque Monsieur, ham and cheese with sauce on top.
If you find it hard to follow my directions, check out this video and see if it helps. :0)