Chicken Negressco a la Salma Keir
This is a versatile dish that you can add vegetables to in the mix before baking. The most common vegetables to add are zucchini, peas or even broccoli.
Negressco is made of three different parts that come together in the oven.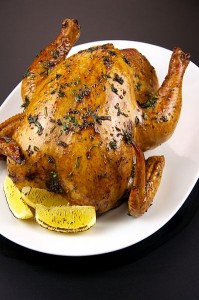 -Chicken: Prepare chicken anyway you wish. For this recipe, I use a roasted chicken from the store. Strip all the meat from the bone. Cut to bite size and set aside.
Here is Salma's recipe for chicken:
– Wash whole chicken inside and out with salt and flour to get clean and take away any unsavory taste.
– Place rinsed chicken in large stock pot with:
1/2 cup water
1 tsp salt
1 tsp pepper
4 bay leaves
1 large onion (keep tail on and cut in four half way through)
Boil 45 minutes
-Pasta: Boil Penne or Elbow macaroni following package directions.
Salma adds 2Tbsp of olive oil and 1 tsp of salt to boiling water for pasta.
–Beshamel Sauce: Remember that you made your Beshamel sauce: shown last week.
Assembly:
-Mix boiled pasta, chicken and 1 cup of Beshamel sauce in a large pot or bowl.
-Spread mixture into a large rectangular oven pan.
-Pour the rest of the Beshamel sauce on the top.
-Bake at 375 until golden brown and serve.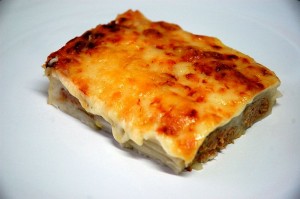 In the end:
– Let stand for 10 minutes out of the oven for easy serving.
– Use spatula to serve rectangles or squares of the baked Negressco.
– Serve with a green salad or a Caesar salad.
– If you wish you can sprinkle some fresh Parmesan cheese on top of every serving.
– Serves 12. Freezes well. Heat in microwave or oven.
Easy to prepare in advance and tastes incredible. Salma froze squares in old empties for her client Eleanor.