Biscotti for Foodie Friday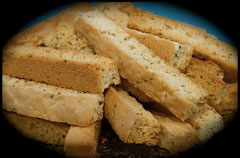 My mother made these wonderful, long, crunchy cookies that we grew up enjoying. We basked in the flavor of anisette and the soft, crumbly texture. Hers was not hard and unyielding.
Here is the recipe for it:
2 1/2 cups all purpose flour
1 cup sugar
1 tsp vanilla
1 Tbsp whole Anise seeds
1 tsp baking powder
1/3 cup vegetable oil
4 eggs
Beat the eggs. Add sugar and continue beating until color changes to a light yellow. Add vanilla then the oil and beat until oil disappears.
Baking powder as a rule should be added to the flour and mixed well.
Add a little at a time of the flour to the mixture, beating gently until all the flour is gone.
Oil generously a roll pan or cookie sheet. Pour your mixture and spread out.
Bake in preheated oven at 350 until golden brown. Remove from oven and let cool. Cut in rectangular shapes. Turn pieces on their side and return to oven to crisp.
Biscotti is an Italian word which means baked twice. But, with my recipe, if you dunk it, it will fall apart before you have time to bring it to your mouth.
Bel Hanna Wel Sheffa!