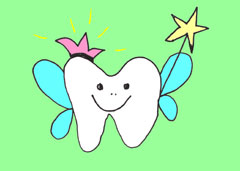 We all know that witches are everywhere waiting, lurking to take parts of you to put in their brew, like finger nail clippings, hair from your brush, a snotty tissue and even your tooth.
When a child loses a tooth, it is a time to rejoice and be excited that they are growing up. That is the time you know that, your not so little one, is on the way to having hopefully healthy solid teeth to bite into solid foods with relish.
But, you want to make sure that when your precious little one loses a tooth, the bad witch does not get hold of it and use it in her nasty magic. The tooth is hidden under the pillow in a little pouch which only the parents know about and they retrieve it in the middle of the night and replace it with a coin.
Not so fast! Coins are hardly enough these days. Coins were in your old childhood days where a penny for your tooth was plenty. By the time my daughters came around, it was a dollar. Inflation, the tooth fairy has to eat too, huh?
Well, my grandson gets five dollars for his tooth. Ummm, I think I have a loose tooth, maybe I will mention it to my daughter and see what she can do for me.
Happy Tooth Fairy Day to all.