(T)otally (S)enseless (A)ntics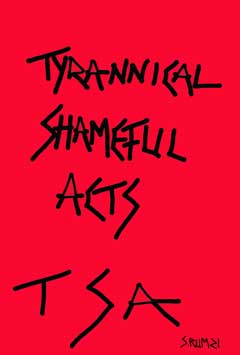 C.S. Lewis said that the worst tyranny comes from the people or persons who claim that the thing they are doing to you, is what you need for your protection and your own good.
Our government has deemed it necessary to protect us. In the most nasty humiliating, disgusting and inefficient manner, they posture, gesture and on the whole, monkey around as they direct us, sheep and cattle, down one aisle or another to be groped and fondled, scanned and ogled.
This ineffective, ineffectual way of dealing with their own inadequacy has inconvenienced millions of people so that the manufacturers and the thieves who made those scanners would profit from the fear they instill in our feeble hearts.
Wake up America! Wake up and realize that Big Brother is here. Watching you, keeping an eye on you for the terror that does not exist. Random acts of violence will happen and they can be dealt with on a day to day basis, it happens to everyone. But, this continuous assault on our senses and bodies, is an assault from within, from our own. That is what makes it so horrific, so unacceptable and despicable.
When someone finally steps up and refuses to be so disabused, we call them radical and non compliant.
Time to build the railroad so they can have back their airlines. Time to ride a horse and go from place to place so that they cannot strip search me and touch me as they please demanding to see the insides of me.
Time to revolt against the horrors that are coming where even moving from place to place will become suspect. This is just the beginning. And, our fears have allowed it.