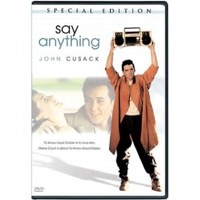 Oldie but Goodie!
For the ladies who love a good light hearted love story, I offer an evening with John Cusak, the boy next door. In this lovely romance this wonderful young man falls in love with the geek of the year. She is lovely but very studious. He makes her laugh and that is why she went out with him and eventually fell in love.
To answer her father when he asked him what will you do with your life, he responds, "I will do what I am good at. I will be with your daughter. I am good at being with your daughter." Or something close to that.
He loves her and wants to be with her in her success or otherwise. When she is humiliated and embarrassed, he stay with her. He is every woman's dream come true, an honest lover and friend.
$$$$$ rated it high. Loved it.