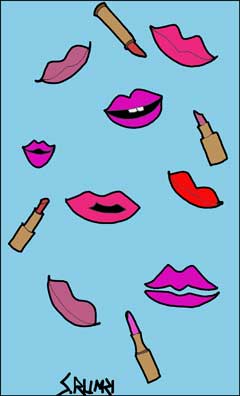 Lips Appreciation Day
Nothing says beautiful as a pair of gorgeous lush lips, with a sparkling wine color. Whatever your preference is for eyes and body, lips are the only time people agree that full and voluptuous is the hallmark of gorgeous in the flappers department.
The dictionary describes them as the fleshy part that is over and below the teeth and mouth. Lips have been exalted in literature, poetry and paintings. Nothing says I love you, like a plump pair of lips.
Even if someone is relatively unattractive the fullness of lips will give them a softness that most seek after for themselves or just to enjoy looking.
That is why hordes of actresses will go get collagen injections in and round their talkers so that they would give off that sexy appearance lost with time and dryness of aging.
Aging women should never slather colors that make them look even older and less appealing with a death like pallor. Purples are not a good aging color. They drain your face and keep you looking haggard. Light pinks and oranges will help soften that look.
Lips say much about the person: Full lips denote a caring person. Large lips are indicative of the love for luxury. Narrow lips are indicative of a less sentimental person.